Welcome to ORLC!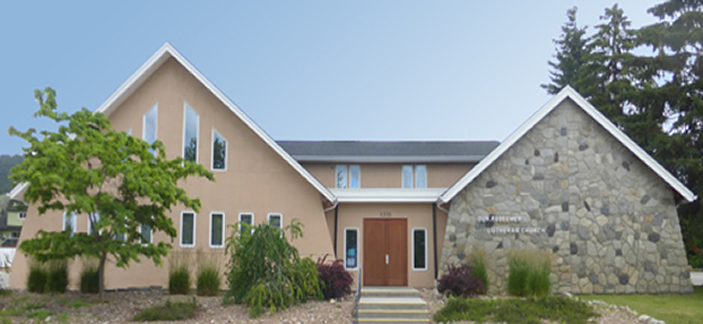 Upcoming Dates to Note:

May 28 - Worship & Music Meeting - 1:00 p.m.
June 9 - Wise Elders Picnic - following service
Skaha Lake Parkat the Gazebo
We are all invited to join with the people of the other congregations represented
in the Wise Elders Group (Penticton United, Oasis United, St. Andrew's Presbyterian
and St. Saviour's Anglican) for a picnic following the Sunday morning Services.

________________________
ORLC Choir with composer Joseph M. Martin.
New York, November 2018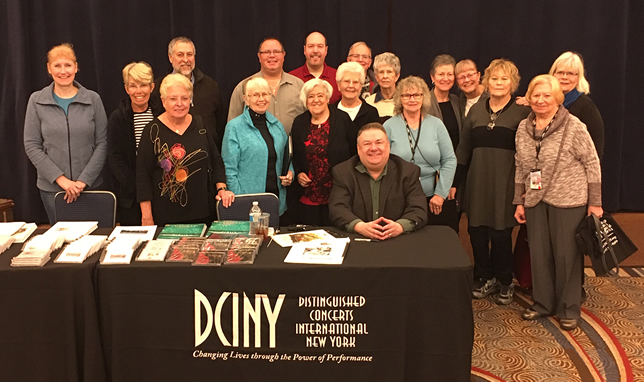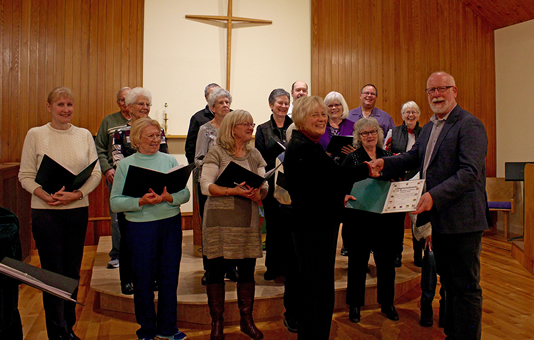 Our MP Richard Cannings presenting a congratulatory certificate
at last rehearsal before trip to Carnegie Hall on Nov. 22.

__________________________________________
ORLC Choir has been invited to sing at Carnegie Hall
Carnegie Hall, New York City - Here we come!
Official Press Release
Penticton Herald Newspaper Article
Check out the ORLC Choir on YouTube.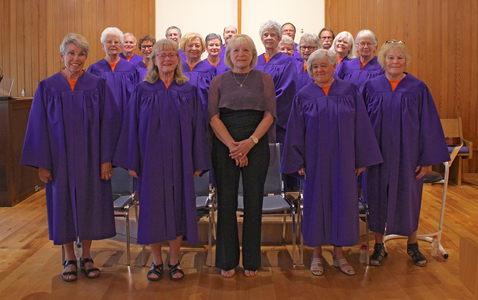 __________________________________________

1370 Church St., Penticton, BC (Corner of Duncan Ave. and Church St.)
Ph: 250-492-6861 E-mail: orlc@shaw.ca

Sunday Worship Service 10:00 a.m.
We welcome you to our 10:00 a.m. Sunday service.
Please join us after the service in our hall for coffee, tea, juice, goodies and fellowship.
Wheelchair Accessible at back entrance.
Child Minding Room at back of Sanctuary with window to see service with audio.
HOURS:

Sunday Service
10:00 a.m. - 12:00 p.m.
Office Open
Tuesday 9:00 a.m. - 12:00 p.m.
Thursday 9:00 a.m. - 12:00 p.m.
Mellow Monday 10:00 a.m. - 12:00 p.m.

Sunday School
Sundays at 10:00 a.m.
___________________________________________
Pastor Curtis Aguirre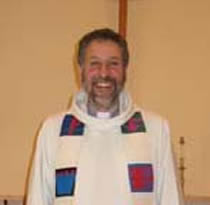 Pastor Curtis Aguirre has been at Our Redeemer Lutheran Church since 2009.
___________________________________________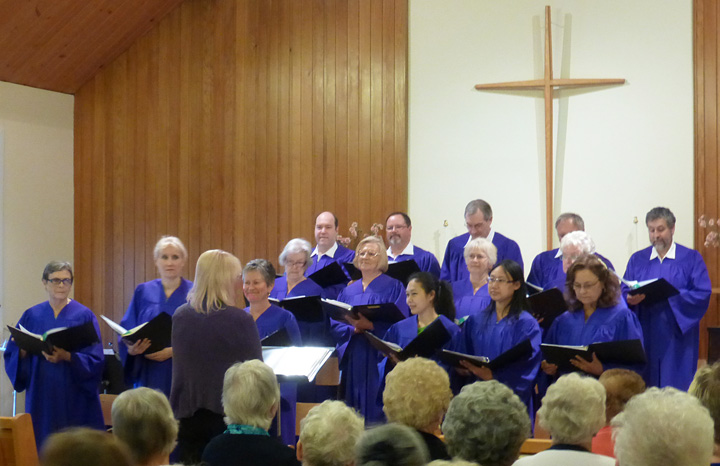 Listen to ORLC Choir - Precious Lord, Take My Hand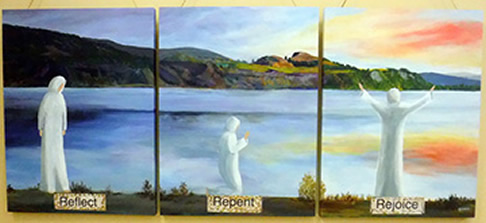 Triptych by Lynne Marand

This set of paintings now hangs in the Fellowship Hall.

The person in the image moves through the process of reflection, repentance, and rejoicing against the backdrop of Okanagan Lake and Naramata bench, a familiar scene to all who live here.
This is meant to be each of us, here where we live, moving through this process.
And so, whenever we gather in the hall, this triptych will be a reminder of the daily process we are called to go through: reflecting on our lives and the areas in our lives that leave room for improvement; repenting, which means returning to God and laying our failings at God's feet; and finding true and lasting joy in the grace-filled embrace of God.
The water in the image connects this process to the Sacrament of Baptism, as Luther did in his treatment of Baptism in the Small Catechism where he wrote:

What does baptizing with water signify?
Answer: That the old Adam in us…should be drowned by daily sorrow and repentance…and the new person should come forth daily and rise up, cleansed and righteous, to live forever in God's presence.
_________________________________
Dedication of Reformation Trees - September 17, 2017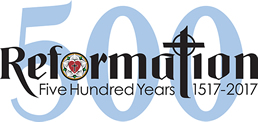 _________________________________

Follow us on Facebook
Views since March 19, 2018